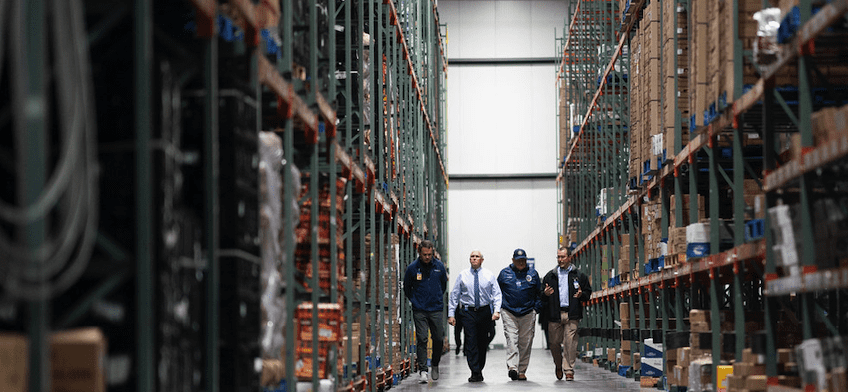 Three Popular Types of Industrial Storage Racks For Warehouses
Fully optimising the space in your warehouse is key for any business. A clear warehouse layout promotes an organised workspace for workers and elevates the profitability of the business by streamlining warehouse operations. How do businesses fully utilise the space in their warehouse? The best way is by investing in industrial racks. There are several reasons why an industrial rack is the best solution for your business.
1. Easy to set up and dismantle: Industrial racks in Singapore are easy to set up and dismantle. This means that you won't need to invest a large amount of manpower into the process of setting up the industrial racks or when dismantling them. Another advantage of their easy set-up is that they can be moved to different locations when needed especially if your business is moving to a new warehouse.
2. Fully Optimise Vertical Space: Industrial storage racks are useful in fully optimising the vertical space in the warehouse rather than using up precious floor space. This in turn creates more space for storage and employees can easily access goods and ensures that Material Handling Equipment (MHEs) like forklifts or reach trucks can be driven with ease. Additionally, with their multiple levels of storage, these storage racks are ideal for storing and selecting certain cargos/goods.
3. Promotes Workplace Efficiency: Another notable benefit of industrial storage racks is that properly designed racking layouts have designated walkways. This allows employees to navigate around the warehouse safely. This has a domino effect on the efficiency of the warehouse. When the workflow in the warehouse is improved, it will naturally allow for a smoother flow of traffic and goods around the warehouse, thereby heightening workplace efficiency.
At Aracking & Shelving Solutions, we have a variety of industrial storage racks to meet your warehouse needs. In this article, we will take a deeper look into the three most popular types of industrial storage racks and discuss their particular advantages and characteristics.
1. Pallet Racking
Pallet racks are structured material handling racking systems that allow for palletised items to be stored on multiple rows. Since pallet racks fully optimise the vertical space in any warehouse by adding on several levels of storage available, it also increases the Stock Keeping Units (SKU) available. One key advantage of a pallet rack is that its design can be customised to store inventory items of various sizes and loads.
Products that can be stored on a pallet racking system can vary in terms of dimensions, types and weight. These include construction materials like concrete blocks, bricks, lumber and steel components. Pallet racking can support huge loads including 1000kg-4000kg/per uniform distributed load (UDL) that typically needs to be handled by MHEs like forklifts and reach trucks. Additionally, pallet racks are a key factor to hold cargo such as a logistic centre.
At Aracking Shelving & Solutions we offer several types of pallet racking solutions. We can recommend the most suitable type of pallet racking system for your warehouse based on the type of goods you are looking to store. These include selective pallet racks, VNA, Double Deep Pallet Racks and Drive-In & Drive-Through Racks.
Perhaps the most prevalent type of pallet racking system in the warehouse industry is the selective pallet racking system and is a staple in most warehouses. They are known as "selective" since warehouse staff will be able to select any palletised goods without the hassle of moving other pallets. Additionally, this type of pallet racking system allows you to store various types of goods irrespective of size or weight. Pallet racks also help to allow fast selection of pallets of goods picking.
As the name suggests, the Very Narrow Aisle Pallet (VNA) Racking is a more compact and a pallet racking system which requires a much smaller aisle (such as 1.8m compared to 3.0m). It is ideal for storing more goods without compromising on the available floor space. One benefit of the VNA, apart from its space-saving capabilities, is that it is a flexible type of pallet racking. The dimensions like the height can be adjusted to suit warehouse needs. Concerned about the concept of narrow aisle widths? Not to worry, along with specially designed floor guide rails, MHEs like VNA trucks will be able to move inside the aisles without difficulty.
On the flipside, double deep pallet racks increase and nearly double the storage space available since palletized goods can be stored at two depths. Special MHEs like double deep trucks are required to access the inventory when stored on double deep pallet racking.
Drive-In and Drive-Through Racks
Drive-in and drive-through racks allow you to store vast quantities of goods that are similar in nature and of a few different categories. It is important to note the difference between drive-in and drive-through racks. The drive-in rack operates on a LIFO (Last-In, First-Out) system which means that the most recent inventory items will be sold first. This system is ideal for non-perishable items.
On the other hand, the FIFO (First-In, First-Out ) system, unique to the drive-through racks, dictates that the oldest items stored in the racking system should be sold first. This method of stock rotation is ideal for easily perishable items like food.
In conclusion, Pallet racking is one of the most popular forms of industrial storage racks by optimising the vertical space in the warehouse. It also simplifies the process of accessing inventory. As any warehouse manager will tell you, a well-systematised warehouse is vital as there is strict control over inventory items and prevents costly mistakes like double ordering.
Specifications for selective pallet racking:
Height (mm): 1200 up to 12000mm
Depth (mm) 600, 900, 1200
Length (mm): 1350, 1850, 2100, 2450, 2700, 3000, 3300, 3600
Decking Material: Plywood, wire-meshing, metal plane
Loading Capacity: 1000kg, 2000kg, 3000kg, 4000kg UDL per level
Colour: Blue Frame RAL 5005, Orange beam RAL 2004
2. Mezzanine Racking System
Another popular type of industrial rack is the Mezzanine Racking System which is an independent and elevated structure. Mezzanine racking systems can easily, and quickly be relocated since they are free-standing structures that do not require any structural support from the warehouse building. If you need to move your warehouse operations to a new location, the process will be simplified due to this advantage of the mezzanine racking system.
Mezzanine racking systems are popular in the warehouse industry because they fully utilise the vertical space in any given warehouse. Most warehouses have high ceilings in Singapore industrial buildings (5m to 6.5m) hence this type of industrial rack in Singapore is perfect to fully utilise high airspace or high ceilings. These free-standing racking systems help double or even triple the available space in your warehouse as one to two levels can be added depending on the storage needed and the warehouse floor to ceiling height.
With these multiple levels available, you can also create designated areas for workers and store separately. One popular example is to create modular office space on the ground floor, while using level two as storage space. This allows warehouse managers to supervise their staff which improves the efficiency of operations and helps ensure worker safety.
Another popular type of racking system is the SuperBlock mezzanine racking system. It is known as a large bay racking system which allows you to fully optimise the bottom area which tends to be obstructed by vertical support beams. This is a useful option if you need to store palletized goods or even park MHEs.
Specifications for Mezzanine Racking System:
Height (m): 2.5m, 3.0m 4.0m, 5.0m up to 6m
Area (m²): 3m x 3m grid, 4.5m x 4.5m and 6.0m x 6.0m and completely modular to suit your warehouse size.
3. Cantilever Racks
Another popular heavy-duty racking system is the cantilever racking system also known as long pipe racking, The cantilever racking system has a central column which is attached to a base. This base is essentially an anchor that provides much-needed stability to the vertical racking system. Varying levels of arms are attached to the central column to enable the storage of inventory items.
This type of racking is ideal for supporting heavier, longer and bulkier inventory items that are unable to be stored on a pallet racking system. Inventory items that can be stored on cantilever racking include 6m steel section, pipes, structural steel and sheet steel 4x8ft.. In terms of capacity, the cantilever racking system is unique in that it has multiple steel arms that can support between 1,500kg and 3,000kg per level. Often, the cantilever is designed to meet the usage requirement of the material.
Apart from their load capacity, cantilever racking is incredibly versatile as the length of the arms can be adjusted so that you are able to store a variety of products irrespective of size or weight. There are two ways a cantilever racking system is made. The first way is single-sided which means inventory can only be stored on one side, whereas the double-sided units allow items to be stored on both sides. One great advantage of the cantilever racking system is that you can convert the single-sided cantilever rack into a double-sided one at any point if the need arises.
Get In Touch With Aracking & Shelving Solutions For All Your Industrial Warehouse Needs
In conclusion, pallet racking, mezzanine racking system and the cantilever racking system are some of the most popular types of industrial racks in the market. Each has their own unique set of advantages and can store differing load capacities and types of inventory. To select the most appropriate racking system for your warehouse, it is critical that you share with our team at Aracking & Shelving Solutions the type of inventory items you are looking to store along with the weight of the goods.
With 30 years of experience under our belt, Aracking & Shelving Solutions understands the principles of storage. We pride ourselves on exceeding customer expectations by designing and supplying the most suitable products to suit our client's requirements.
Along with this, we ensure competitive pricing and durability while complying with the highest industry standards. For assured quality, place your trust in Aracking & Shelving Solutions. Call us today at 9297 9543 or drop us an email enquiry at sales@aracking.com.