Warehouse rackings are metal structures built for the purpose of storing products and goods. In addition to increasing productivity, a warehouse racking system can save you labour time and reduce labour cost by providing easy access to stored items, thus ensuring smooth operations. If a racking system is not in place, it limits the company's ability to stay organised and efficient. Our warehouse racking systems are built to last, making it an ideal choice for commercial and industrial warehouses.

HEAVY DUTY RACKING SYSTEM
Heavy-duty racks are warehouse storage racks designed for medium to large-sized goods such as pallets and cargo. The height of each level can be adjusted to fit your pallet height. This warehouse rack shelving is made of heavy duty steel and has a large holding capacity from 8T per bay to 15T per bay. The orange beams are installed with safety pins to prevent accidental dislodgement. Depending on the loading capacity required, different loading beams will be designed and proposed. The common loading capacity ranges from 1000kg, 2000kg and up to 4000kg per level loading.
Learn more about Heavy Duty Racking System.
SELECTIVE PALLET RACKING
Selective pallet racking divides warehouse rack storage space into multiple bays at different heights.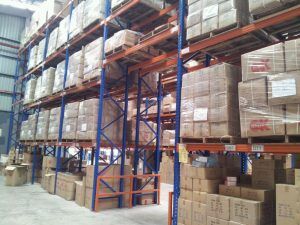 Specifications:
Height (mm): 1200 up to 12000 mm
Depth (mm): 600, 900, 1200
Length (mm): 1350, 1850, 2100, 2450, 2700, 3000, 3300, 3600
Decking Material: Plywood/wiremeshing/metal panel
Loading Capacity: 1000kg, 2000kg, 3000kg /4000kg UDL per level
Colour: Blue frame ral 5005, Orange beam ral 2004
Learn more about Pallet Racking System.
EZYSPAN SHELVING RACK
The Ezyspan shelving rack is a warehouse rack shelf designed for light to medium-duty usage. You can also use it as a storage or assembly line. These racks are used in cold rooms to place frozen items with the use of perforated metal planks as the shelve decking to enable better airflow.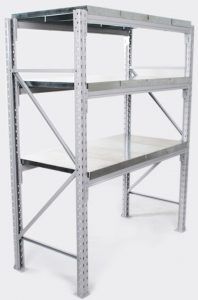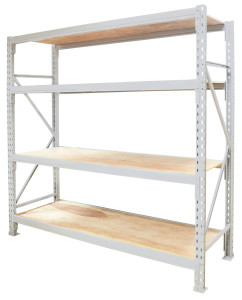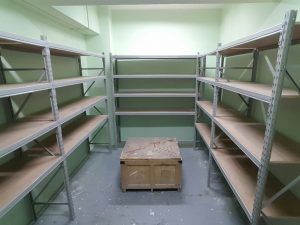 Specifications:
Height (mm): 1800, 2100, 2400, 2700, 3000
Depth (mm): 450, 600, 900, 1200
Length (mm): 1200, 1500, 1800, 2100, 2400
Decking Material: Plywood or Metal shelving
Loading Capacity: 600kg / UDL per level
Max load per bay: 3000kg
Colour: Light grey for both frame and beam
MEDIUM DUTY RACKING SYSTEM
Medium-duty warehouse racking is an alternative to heavy-duty systems. It can hold up to 1000 kg per level. It is also a cost effective option if you do not need such a heavy load. The maximum load per bay is up to 4000kg.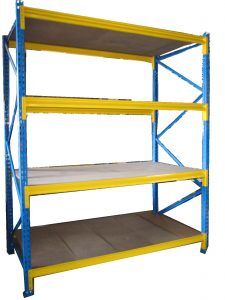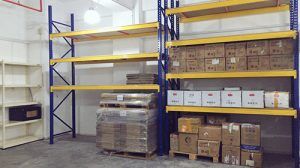 Specifications:
Height (mm): 1200 to 4200 (per 300mm interval)
Depth (mm): 600, 900, 1200
Length (mm): 1200, 1500, 1800, 2100, 2400, 2700, 3000
Decking Material: Plywood or Metal shelving
Loading Capacity: 500kg to 1000kg / UDL per level
Max load per bay: 4000kg
Colour: Blue for frame, Yellow for Beam
Warehouse Racking System FAQ
1. Why are warehouse racking systems important?
Warehouse racking systems help to organise cargo, optimise your space and manage inventory levels.
2. What should you consider when buying a racking system?
a. Budget
A racking system is an investment. As such, the best course of action is to purchase the best possible equipment within your means that can support your operations. This leads to higher productivity and optimal workflow.
Additionally, when you invest in an efficient racking system, you are able to store more goods. When your warehouse is able to store more goods, you can then accommodate for greater demands and eventually reap a better ROI.
b. Storage facility and Type of cargo
Consider the area you have to work with and the items you store. Whether it is an indoor or outdoor area will help you determine the type of rack finishing which you require. Long cargos will require a specialised rack such as cantilever racks while pallet racks are suitable for palletized items.
c. Durability and stability
Invest in a high-quality racking system that is durable and stable. Consider it a long term investment which can last longer as compared to a poor quality rack which you will have to replace in the future.
3. What is the difference between heavy duty shelving/racking and Heavy duty pallet racking?
Heavy duty shelving/racking comes with deckings like plywood or metal panels and is meant for smaller sized goods that can be carried by hand. Heavy duty pallet racking is used for pallets which require specialised material handling equipment (MHE) such as forklifts and reach trucks to move.
4. What is a warehouse layout plan?
It is the process of arranging materials and equipment in order to store, distribute and retrieve them efficiently. Warehouse layout plan Includes packing space, office space, racking layout and other determined spaces.
5. What is considered the best racking system for a warehouse?
There is no one-size-fits-all for racking. Selective pallet racking however is the most popular choice for pallet storage. This type of pallet rack can be used for a wide variety of applications, including electronics, retail merchandise, food products as long as it fits within the chosen pallet size.
6. What is pallet racking?
Pallet racking systems are a storage method that leverages vertical space to store products and materials. Operators typically use MHE(s) such as forklifts to place and retrieve pallets stored on the shelves.
7. What is the benefit of Pallet Racking?
It leverages the vertical space in your facility, allowing you to store more products and materials without expanding your horizontal square fit. This allows for enhanced efficiency and productivity. With the advancement of MHE(s), racking has developed to reach higher from 6m high rack to 12m to even 18m high. This allows you to further maximise your warehouse by doubling and even tripling your floor space.
8. What is Last-In, First-Out?
Last-In, First-Out (LIFO) is for homogenous products such as bricks that do not have an expiry date. Materials are taken off the top of the pile and sold before the oldest materials are, this method allows for a more even distribution of raw materials across months of sales.
9. What is First-In, First-Out?
First In, First Out (FIFO) is an inventory management method that requires that products be received and sold in the same order. This means the first items placed into inventory must also be the first ones sold. This is suitable for perishable commodities as they can only be stored for a limited amount of time before they are unusable.
10. How do I measure my warehouse storage capacity?

Subtract the floor space to be used for administrative purposes such as offices and aisles from the complete square footage of your warehouse. Multiply your result by your space's clear height to get your warehouse's storage capacity.
Get In Touch With Our Team At Aracking & Shelving Solutions Today!
With 30 years of experience under our belt, Aracking & Shelving Solutions understands the principles of storage. We pride ourselves on exceeding customer expectations by designing and supplying the most suitable products to suit our client's requirements. Along with this, we ensure competitive pricing and durability while complying with the highest industry standards. For assured quality, place your trust in Aracking & Shelving Solutions. Call us today at 9297 9543 or drop us an email enquiry at sales@aracking.com