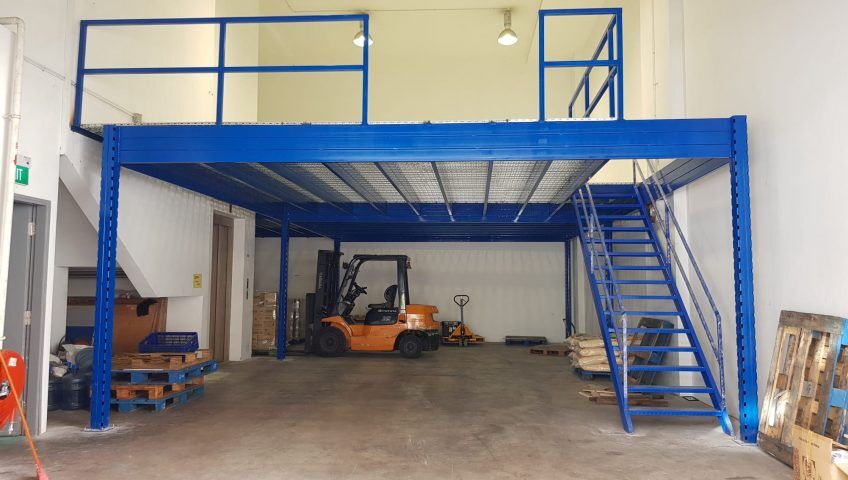 Benefits of Having a Mezzanine Floor
Lack of storage space is a common problem that arises in warehouses. The main reason behind this is having bulky storage racks, shelves, and inventory that occupy a large area of the floor space. As a solution, installing mezzanine floors has become a popular option among warehouse owners in Singapore. This method of storage brings numerous benefits to warehouse owners in optimising storage space.
What Is a Mezzanine Floor?
A mezzanine floor is a type of storage solution that acts as a separate floor within a storage facility. Utilising the unused vertical space, it can optimise your storage area. This free-standing elevated platform is built between the floor and the ceiling of a warehouse incorporating many safety features such as railings and staircase access. It is common to see mezzanine floors in Singapore, as many warehouse owners have turned to this option due to the high ceiling space most warehouses offer.
1. Maximises Storage Space
A mezzanine rack can vastly expand the storage space within a warehouse as it is built as an additional floor. Without disturbing the existing layout of the racking, it utilises the vertical space of a storage facility. Choosing this storage solution, you can store large amounts of goods in a limited area while having your office and operation at level 1.
2. Cost-Effective
When considering the storage area it maximises, installing a mezzanine floor can be identified as a much more cost-effective option, especially when compared to the cost of relocating to a new warehouse, rebuilding the warehouse to include a second floor, or purchasing a second warehouse.
3. Increases Warehouse Value
Whether you use your own warehouse or rent it out, having a mezzanine floor indeed increases its overall value. Therefore, it can be considered an investment in the long run, especially if you intend to sell or rent out your warehouse in the future.
4. Allows Business Integration
Not only in warehouses, a mezzanine floor can also be installed in a retail store or any such facility, as it massively helps in integrating various business operations. For example, when there is a mezzanine floor in a retail store, the owners will be able to handle both transactions and other operations while also keeping their stocks in the mezzanine level. It allows for a smooth run of operations while avoiding the hassle of maintaining stocks at two different premises.
5. Enhances Warehouse Safety
Mezzanine floors are a special type of storage solution that should comply with a set of comprehensive safety regulations. Their dimensions and features are highly standardised in order to enhance warehouse safety for both workers and inventory. By installing a mezzanine floor, you can avoid piling up goods on other types of racks and shelves that might collapse following a simple mishap.
Aracking & Shelving for a Reliable Mezzanine in Singapore
If you are thinking about adding a mezzanine floor to your warehouse, retail store, or any such property, don't think twice about contacting Aracking & Shelving Solutions. We install highly reliable mezzanine floors in Singapore to cover all your storage needs in the most practical way. Our mezzanines in Singapore are designed by in-house engineers to ensure the utmost safety of both your employees and stored items. Built with advanced technologies, our mezzanine floors can efficiently expand your storage area.
Get in Touch with Us
With 30 years of experience under our belt, Aracking & Shelving Solutions understands the principles of storage. We pride ourselves on exceeding customer expectations by designing and supplying the most suitable products to suit our client's requirements. Along with this, we ensure competitive pricing and durability while complying with the highest industry standards. For assured quality, place your trust in Aracking & Shelving Solutions. Call us today at 98330402 or drop us an email enquiry at sales@aracking.com.