Aracking & Shelving Solutions provides high-quality boltless racking systems for loads of all sizes and weights. Our services include the design, supply, installation and relocation of boltless racks for your business.
As the name suggests, boltless racking systems do not require bolts and nuts, allowing for the quick and easy installation and easy vertical adjustment of shelf height according to your storage needs. This system is ideal for the storage of lightweight industrial parts, electronics, apparel and more.
Advantages of Boltless Racking Systems
Superior Strength: Stores up to 400 kg per shelf level.
Better Organisation: Helps organises storage space, reducing obstruction and hazards on the floor and easy retrieval of Stock Keeping Unit (SKU).
Easily Set-up: Without the need for bolts and nuts, our fully adjustable boltless shelving system can be quickly installed or dismantled with ease.
Rust Resistant - Each boltless rack comes with a layer of epoxy powder coating which prevents rust from forming over time.
Customizability: There are various dimensions in length and depth to choose from and up to 3 metres in height. You can also choose the shelving deck material from either HDF (High-Density Fiberboard) board shelves or metal panel shelves.
Versatility: Comes in multiple sizes variations to fit in any store size. You can easily adjust the positions of shelves to achieve your desired shelf height thereby making it suitable for most industries, be it wholesale or retail settings.
Our Boltless Racking System Solutions
Bomb Shelter Racks for HDBs
Flats of today are getting smaller and smaller, and a common problem is the lack of sufficient storage space to store our beloved belongings. To deal with this, many HDB owners are using their bomb shelters as their storerooms. Boltless rack can be really useful to store your items neatly and allows easy retrieval of your items.
Boltless Racking System
Best known for their low cost, the boltless racking system is perfect for storerooms and offices. Each one is made from sturdy materials that are capable of holding the required load. This will have cost savings compared to regular carpentry works or office filing cabinets. Carpentry works are often expensive and less durable.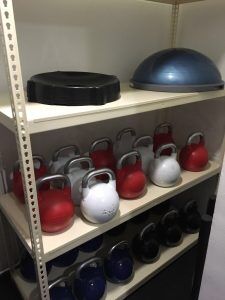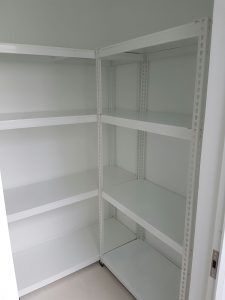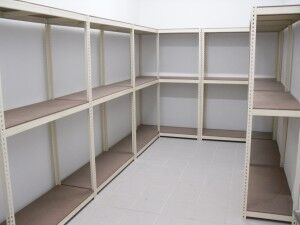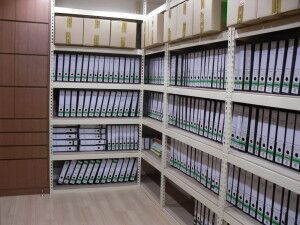 Specifications:
Height (mm): 1800, 2100, 2400, 2700, 3000
Depth (mm): 450, 600
Length (mm): 900, 1200, 1500, 1800
Decking Material: HDF Board or Metal Shelving
Loading Capacity: Up to 400kg / UDL per level
Finishing: Epoxy Powder Coated
Colour: White
Rivet Rack Series
Looking for something more aesthetically pleasing? We have our Rivet Rack Series. Unlike our boltless racks, this design casts away the industrial feel while retaining its desired utility. By removing the visible holes in the vertical posts, it makes cleaning a breeze as less dust gets trapped in those crevices. This makes it a great option for areas such as study rooms, kitchens and as well as open office spaces.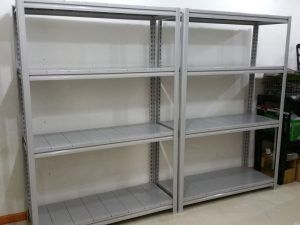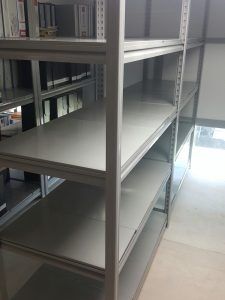 Specifications:
Height (mm): 1800, 2100, 2400
Depth (mm): 450, 600
Length (mm): 450, 600, 900, 1200
Decking Material: Metal Shelving
Loading Capacity: Up to 400kg / UDL per level
Finishing: Epoxy Powder Coated
Colour: Grey
Invest In A Boltless Racking System Today!
When you invest in a boltless racking system, you are able to efficiently store your goods like apparel and electronics. With their superior strength and rust resistant properties among other great benefits, they are the perfect choice for your home or retail settings.
With 30 years of experience under our belt, Aracking & Shelving Solutions understands the principles of storage. We pride ourselves on exceeding customer expectations by designing and supplying the most suitable products to suit our client's requirements. Along with this, we ensure competitive pricing and durability all the while complying with the highest industry standards. For assured quality, place your trust in Aracking & Shelving Solutions. Call us today at 9297 9543 or drop us an email enquiry at sales@aracking.com