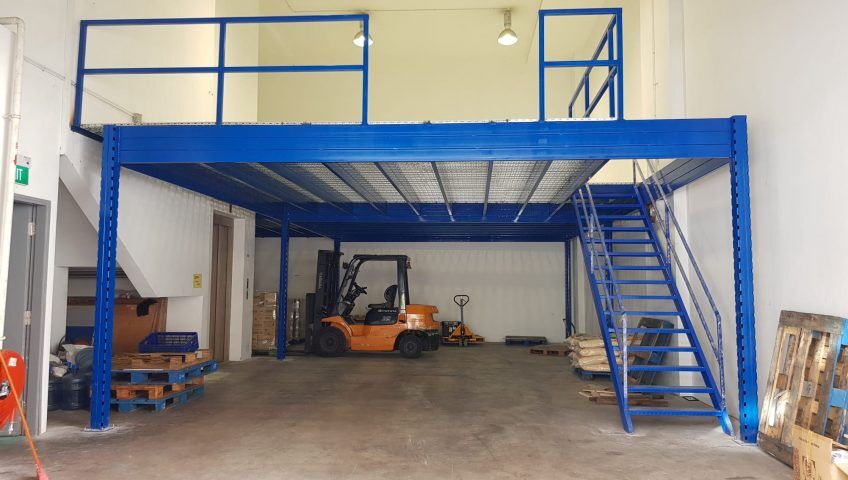 SUPERBLOCK and INTERBLOCK Racking System: What Makes them Stand Out
There are a myriad of racking systems on the market that are suited for different storage needs. Among the lot, Superblock / Interblock racking systems have been gaining popularity over the years. Many warehouses and offices in Singapore have been using these types of racking systems to increase their productive space in their office and warehouses. Superblock is produced from Thailand while Interblock is produced in Malaysia. The Singapore market is gradually moving towards Interblock as the lead time and customisation works are faster and shorter due to Malaysia's close proximity to us; being only one a bridge away from Singapore.
What are Superblock / Interblock Racking Systems?
Superblock / Interblock racking systems are used to build mezzanine platforms that are modular and standalone, one that requires no wall or floor bolting. It is a large bay racking system which allows for the storage of palletized goods.
Such racking systems are cost effective solutions for businesses to fully utilize their warehouse high vertical space as they are converted into usable storage areas. The main attraction to these systems is that the system uses columns instead of frames, hence having lesser obstructions below the mezzanine level, allowing for better flow and movement during working hours.
Multi-tier Storage Solution
Maximising your floor space is something that warehouses and many industries value. By implementing a Superblock / Interblock racking system, floor space will no longer become an issue as pallets can be stored stack-by-stack height wise. Superblock mezzanine platforms are an effective storage solution as they do not require extra horizontal space to set up. They are installed over the specific areas where one needs additional storage space to be made, thus increasing the available storage space easily. If your warehouse is 10 metres and more, Superblock / Interblock racking system can be used to build up to 3 levels.
Economical Storage Solution
By fully utilizing the warehouse vertical space, Superblock / Interblock racking systems easily double the available storage space which allows one to increase pallet concentration over a smaller area. This makes it more cost effective for leasing of units as tenants will not need to rent larger warehouses or additional office space in order to accommodate high volumes of pallets and storage items.
Time Saving Storage Solution
Unlike other racking systems that require additional time for existing storage in the warehouse to be cleared before installation, Superblock / Interblock racking systems can be implemented on the spot. As they do not require wall or floor bolting, it allows for easy installation and dismantling. This means that one can double their storage space within a short span of time without much disruption to the current warehouse operations.
Customizable Storage Solution
Superblock / Interblock mezzanine platforms can be customized to one's needs and specifications. Depending on the storage usage, various floor decking materials such as perforated metal planks or steel grating can be implemented to increase the sturdiness and overall safety of the mezzanine platform. The height of the racking system can also be adjusted and outfitted with mobile staircases to provide accessibility to the pallets. Furthermore, Superblock / Interblock racking systems can be built part by part, hence, allowing for clients to slowly expand their mezzanine level over the years. This allows for better cash flow for business operations.
Other Benefits of Superblock Racking Systems Includes:
Provides mobility for bulky storage
Office below structure is approved by government authorities
Gross Floor Area (GFA) exemption
Singapore Fire Safety Compliance
P.E Approved
Overall, the Superblock / Interblock racking system is an effective and efficient storage solution for all types of industries. They provide high returns on investment and can help businesses meet their warehouse and office needs.
If you decide to invest in such a racking system, do consult with the team of trained and trusted professionals from ARACKING & SHELVING SOLUTIONS who will think in your best interests and provide you with quality advice on how to implement your own perfect Superblock / Interblock racking system.
Call us today for a hassle-free consultation!